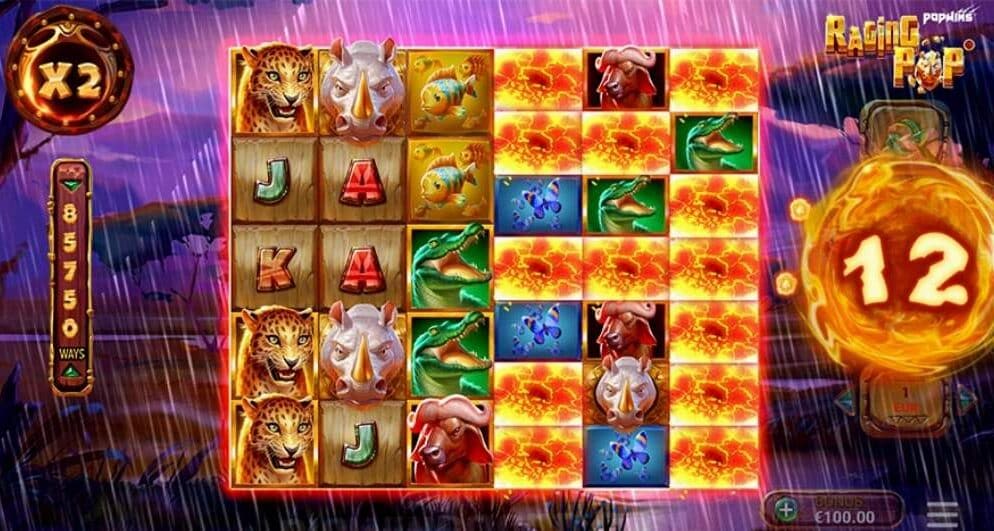 AvatarUX and Yggdrasil have partnered for the upcoming slot title of AvatarUX, RaginPop. It is based on an African adventure theme where animals, especially Golden Rhinos, take a seat to entertain and reward the player.
RaginPop is powered by GATI and contains a PopWins mechanic to bring a new element of excitement with every spin. A free spin mode in the game can be triggered with three or more scatter symbols which further opens the path to multi-stage gamble mode.
Players can increase the number of free spins by spinning the Gamble Wheel and waiting for the fortune to dance on their tones. If successful, players can pocket up to 30 free spins; however, the successful attempts must be in multiple numbers.
Winning chances increase with the bonus round, where the number of reels grows with every one symbol after 10 spins. The process repeats until the maximum reel height is reached.
Not just the number of reels but also their heights go to touch the tree's peak after the Ragin Reel feature is triggered during the playing mode. Rhinos appear in their natural form to first entertain and then add a matrix to take the height up to a maximum of 500x.
Reels can reach up to six symbols during the base play through the popping of wins. A bonus round rewards an additional number with seven symbols in total to increase the potential of capturing a win.
Golden Rhino saves the day by acting as a super-high symbol that pays out just a combination of two symbols instead of three. It remains active throughout the gameplay and carries an element of surprise to add to the factor of excitement.
Nicola Longmuir, the Chief Executive Officer of AvatarUX, called RagingPop an exciting addition to its portfolio and stated that the venture was thrilled to launch the game across all its online casinos to make it available to all the partners.
Adding RagingPop is a strong milestone, and the team looks forward to experiencing how the collaboration turns out in the future with more hopes of it turning out fruitful.
As per the gaming news, Stuart McCarthy, the Head of Product & Programs at Yggdrasil, responded by saying that AvatarUX was an outstanding studio and added that the partnership was fantastic, with a lot of creative content in store for players worldwide.
Yggdrasil is a leading developer of content that aims to entertain players and reward them for their time. The team comprises members who have a lot of passion for the field and go to any creative extent to deliver the iconic gaming experience.
Known as a revenue engine for local partners, Yggdrasil enables everyone to accelerate their scale for global reach through its rapid development and distribution of content. The mission of Yggdrasil is to constantly reinvent its iGaming platform so that its partners have better reach and opportunities for growth.