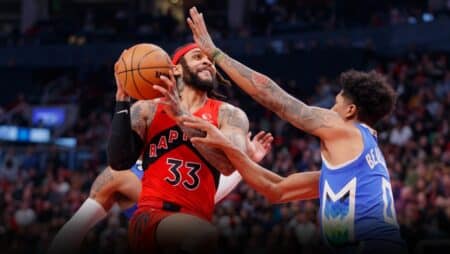 The Toronto Raptors and the Milwaukee Bucks had a face-off yesterday, with key players resting from both sides. Benched players were on the court for the fight that ultimately tilted toward the Raptors. They did dominate throughout the four quarters to get to the tally of 121 against 105 by the opponent.
Gary Trent Jr had a larger role to play, scoring 23 points and 3 assists had a substantial contribution to the win.
Players rested by the Raptors were Pascal Siakam, Fred VanVleet, and O.G. Anunoby. The Bucks chose to leave out Giannis Antetokounmpo, Jrue Holiday, and Brook Lopez. The Raptors have finished at the 9th position, while the Bucks are at the top of the charts for the Eastern Conference.
A contribution by Trent was followed by Malachi Flynn, who brought in 20 points with 4 assists. Precious Achiuwa stood 3rd with 14 points and a single assist.
Playing benched players worked well for the Raptors, and the players who were a part of the game had a similar tone to sing. Achiuwa, for instance, has said that it is important for the rest of the guys to go out there and get a run.
Scottie Barnes, who put up a total of 8 points, finds himself ready for the elimination game.
According to online Canadian gaming news, the Bucks had the maximum contribution from Lindell Wigginton, bringing 17 points and 1 rebound. He was followed by Bobby Portis, who took 16 points with four rebounds.
Meanwhile, the Raptors have set a record for the number of steals, registering a figure of 772 in the current season. This surpasses the previous record of 769, which was set in the 1997-1998 season. The average stands at 9.4 steals per game.
Nick Nurse, the head coach of the Toronto Raptors, has said that to do it over the course of 82 games means that there was a lot of effort and energy, along with aggressiveness on the court.
Overall, the sides stood close to each other only in the concluding session of the Basketball game. The Raptors and the Bucks each scored 26 points. While it was acceptable by the winning side, the same cannot be said about the opponent who needed magic to bring the score to par. The Raptors, with a record of 41-41, claimed the lead in the first quarter itself. The Scotiabank Arena hosted both teams for a competitive rivalry, with the Raptors registering their 4th consecutive victory at home.
The Raptors will next host the Chicago Bulls for the play-in tournament. Having lost their two games against the Celtics before facing the Bucks, the Raptors only have the option to continue the momentum for a win.
Also, the Miami Heat and the Atlanta Hawks are gearing up for the play-in tournament.