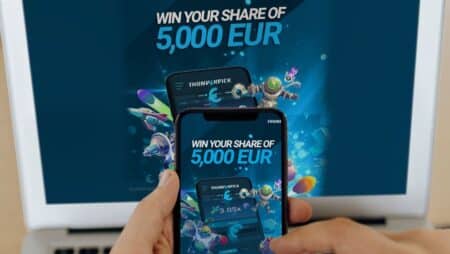 Thunderpick is hosting Thundercrash. The event is ongoing, with a commencement date of April 7, 2023. It is set to conclude on April 16, 2023, at 23:59 UTC. Making this 10-day event interesting is the prize pool of 5,000 euros that is up for grabs, provided players make it to the Final Raffle.
The primary task is to achieve the highest multiplier in the selected games at Thunderpick during the promo window. On top of the Final Raffle, players can win rewards every day by participating in daily promotions. These are actually important, as players who make it to the winning list of the Daily Promotions at least three times qualify for the Final Raffle.
Final Raffle will happen on April 17, 2023, with up to 10 prizes to be distributed.
Players have to wager 5 euros every day to qualify for Daily Promotions. The minimum size for the bet and multiplier is 1 euro and 2.00. A list of winners for Daily Promotions is determined every day by Thunderpick, and the list is posted on the official blog post.
Restricted solely to the players of Thunderpick, the players need to consider all the general terms and conditions along with the currency in which they are wagering. The minimum requirement of 5 euros in any other currency has to match the amount.
Players can only win one prize in the Daily Promotion during Thundercrash. A player who has won a daily reward today can win again on another day, but they can only win a single reward, not multiple rewards. Accounts that are closed at the end of the promotion will not be considered valid. Hence, the prize will not be credited to their account.
 Thunderpick will distribute the prize for the Daily Promotion in the following manner:
| | |
| --- | --- |
| Position | Prize (Euros) |
| 1st | €150 |
| 2nd | €80 |
| 3rd | €60 |
| 4th – 5th | €30 |
| 6th – 10th | €10 |
Prize distribution by Thunderpick for Final Raffle will happen in the following manner:
| | |
| --- | --- |
| Number of Prizes | Prize Amount (Euros) |
| One | €200 |
| Three | €100 |
| Five | €50 |
| Six | €25 |
| Ten | €10 |
According to the latest gaming news, the Thundercrash promotional event that started on April 7, 2023, at 00:00 UTC, consists of two categories: Daily Promotions and Final Raffle. The second category sounds intriguing; however, it is important to make it through Daily Promotions first.
Prizes, when won, will be rolled out to the accounts of the winners. They will first have to wager the amount at least ten times to make it real money. It will be credited to winners on the following dates:
April 11, 2023

April 13, 2023

April 14, 2023

April 17, 2023
To reiterate, players must qualify for at least three Daily Promotions to make it to the Final Raffle.
Thunderpick, the online operator, offers three categories: eSports, Sports, and Casino. Players can explore all the sections along with the promotions and rewards that they can claim.