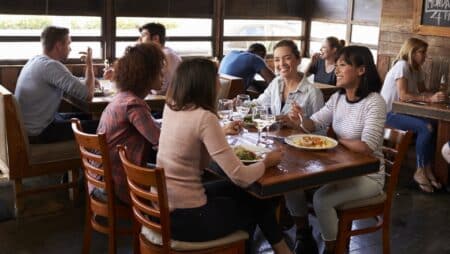 Aegis Brands, which is a reputed company owning and running the St. Louis Bar & Grill chain of restaurants, has signed a lucrative deal with Sports Interaction, a leading Canadian online sportsbook and casino. The goal of the collaboration is to provide sports fans and gamblers at its Ontario locations with a "Wings and Wagers" experience.
As per the latest sports betting news, the partnership will enable customers to enjoy watching games and placing wagers on the Sports Interaction app while dining at the restaurant, and both businesses will benefit from the cross-promotion of their wares and the offering of unique sportsbook benefits.
Incidentally, Aegis Brands is situated in Toronto, and Sports Interaction is a digital sportsbook based in Canada.
According to Steven Pelton, the President of St. Louis Bar & Grill, this partnership will ensure they stay ahead of the competition and create an avenue for the overall growth of all of their twenty franchises that exist in Toronto and Ontario. The option the customers will be receiving of laying their bets will indeed be the highlighting feature.
Sports Interaction was officially established in 1997, with the founders being the Mohawk Tribe of Canada. The company provides more than 30 sports and has obtained certification from the Kahnawake Gaming Commission. It is a landmark deal the sportsbook has struck with the chain of restaurants that run their business in 70 addresses throughout Canada. Along with this there are many other online Canadian Sportsbooks offering a great range of options for gaming.
According to the CEO of Sports Interaction, Leon Thomas, the company is transforming how Canadians perceive sports. The fact that they have been operating in Canada for a quarter century and have their finger on the market's pulse is their greatest asset. They are ecstatic to have partnered with St. Louis Bar & Grill to introduce customers to sports, as well as organizations and players.
There has been a priority set for responsible gambling. St. Louis Bar & Grill is very particular about adhering to all regulations set forth by the Alcohol and Gaming Commission of Ontario and iGaming Ontario. The employees undergo a training program for this.
This is not the first case where sports wagering has been associated with restaurants. DraftKings introduced its Sports and Social amenity in the U.S. towards the end of 2022, in Troy, Michigan, and brought about the idea of a sports bar and sportsbook. BetMGM, on its part, has a history of being associated with Buffalo Wild Wings.
This association may become responsible for further collaborations between betting platforms and restaurants in the future. In the case of St. Louis Bar & Grill, it boasts of having 70 properties in places like Alberta and others and is presently turning its attention towards the west for prospective locations in British Columbia.