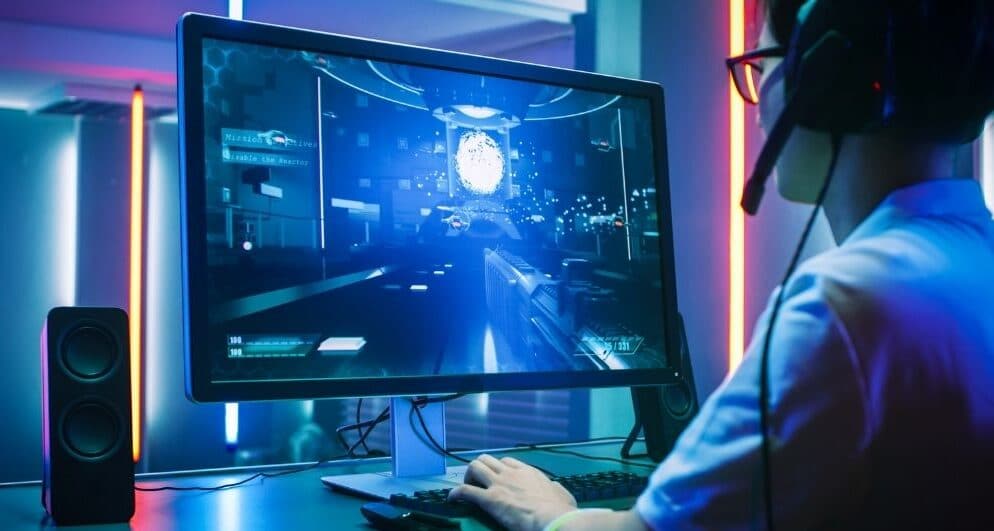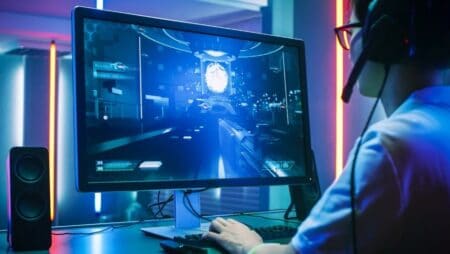 Gaming is massive, and it's just going to become more significant. According to a statistic before the coronavirus pandemic, it's already making more money than Hollywood movies.
Recently, LG introduced a new gaming device combo available exclusively online, which comprises the LG UltraGear 32GP850 gaming monitor and UltraGear GP9 gameplay speakers. Starting December 2021, users may purchase the package for an upgraded and realistic gameplay experience for $1199, using the DEC ULTRAGEAR coupon.
The LG UltraGear 32GP850 monitor has all the features you'd expect, including fast reaction times, HDR10 color, AMD FreeSync, and G-SYNC compatibility. With the LG UltraGear GP9 gameplay speaker, customers can enjoy high-resolution music with custom EQ sound, 3D game sound, voice chat functionality, and up to five-hour battery life.
Brad Reed, LG Electronics Australia's Head of B2B Marketing (Business Solutions), says their new bundle is developed with display and sound characteristics tailored to gamers. He adds that the combo's HDR10 color software, 3D gaming audio, voice chat technology, and NVIDIA G-SYNC compatibility will give a spectacular gaming experience.
On the subject of their commitment to providing the most powerful technology to Australian gamers, he added that the LG UltraGear gaming package is a perfect illustration.
Samantha Mikhael, LG Electronics Australia's Home Entertainment Category Marketing Manager, agrees with Brad's remark and adds that LG Australia is committed to boosting the home entertainment experience for all Australians, regardless of their love for movies, gaming, or sport. The GP9 gaming speaker is just another evidence of their dedication to audio innovation as they are constantly improving their audio range to create products that enhance home entertainment experiences.
She says that gamers would welcome GP9's inclusion of a wide range of features since it will provide them with an entirely new gaming experience.
LG Gaming Monitor 32GP850
The LG UltraGear gaming monitor combines high speed and visual clarity for enhanced gaming experiences. Nano IPS 1ms (Grey to Grey) reaction time technology increases absolute immersion for customers. For better gaming performance, it uses Grey-to-Grey technology.
It allows for better visual immersion and faster gameplay experiences. AMD FreeSync technology eliminates tearing and stuttering, while NVIDIA G-SYNC compatibility synchronizes these speeds. These features enable users to roam freely throughout games. They might expect improved games and strategic thinking with the new technology.
Its narrow bezel further enhances the visual experience without distracting from the display. The adjustable stand enables display tilt, height, and pivoting for better viewing.
LG GP9 Gaming Speaker
The GP9 speaker enhances the LG gaming experience with room-filling, high-quality sound.
LG's UltraGear Gaming speaker customizes gaming audio. The speaker generates realistic surround sound without a headset, which is ideal for first-person shooter and real-time strategy games. Consumers can now hear other gamers and respond faster, enhancing strategic gameplay.
Clear Voice Chat technology is also integrated into sound technology. Consumers may converse without a headset. The Clear Voice algorithm allows users to discuss strategies with colleagues by tapping the speaker microphone button. Another feature of the LG GP9 is the modification of the sound EQ for gaming.
A gaming monitor and speaker package from LG is now available exclusively on LG.com/au.