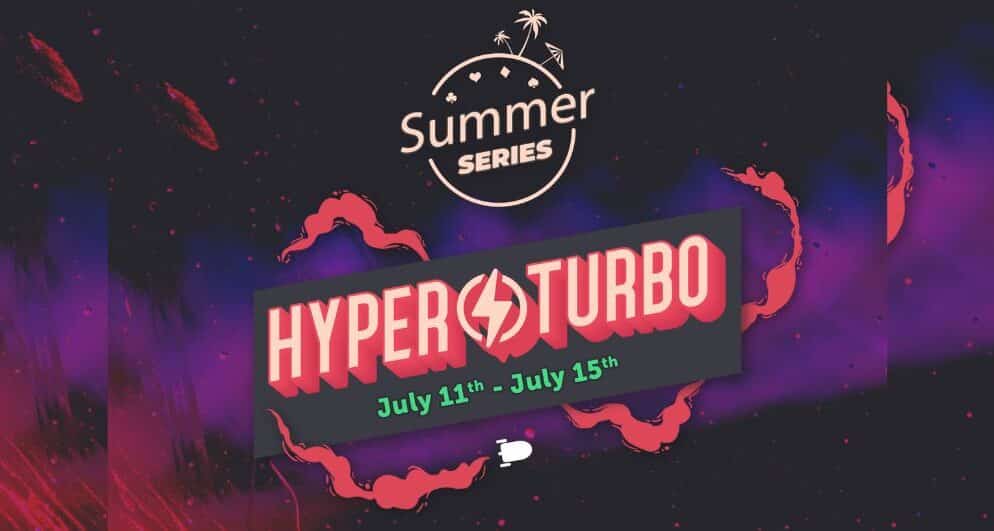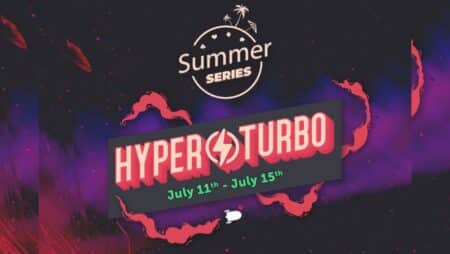 CoinPoker has announced a five-day series called Hyper Turbo Promo, where players have a chance to grab a portion of the guaranteed prize pool of 7500 USDT.
The prize pool is in addition to the 30 CSOP tickets given randomly to those who regularly participate in the events. A total of ten tournaments have been scheduled, with two events happening every day starting on July 11, 2022, and ending on July 16, 2022.
Buy-in ranges between 2 and 30 USDT. Starting stacks and rebuys have been boosted to 7500 chips. Rebuys can be refueled if the stack falls below 7500 with an optional add-on of 15,000 ready to be activated.
Three lucky players will be rewarded CSOP event tickets. Those who play all ten events will get entry into event 12 of CSOP valued at 20. More details follow:-
Starting Chips:

7500

Rebuys:

Permitted whenever the stack goes below the starting chip mark during the rebuy period.

Add-On:

15,000 chips are allowed under the add-on policy.

Structure:

3-minute levels.

Registration:

Late registration for 12 levels.
Games have two formats, Rebuy and Hyper Turbo, with a GTD Prize of 200 – 1500.
Rebuys can be bought by players by selecting the wallet icon in the upper right corner of the desktop client. Then, select the numbers or rebuys after the cashier opens the window. Click plus sign to increase the number and minus sign to decrease the number.
The process is similar for the mobile client except for the fact that there would be an obvious difference in the screen size.
CoinPoker is a decentralized poker that is powered by cryptocurrency. It was created by an ambitious team as a platform that employs USDT stablecoin as the primary in-game money and CHP as a supplementary fuel.
Players are subject to all the benefits of cryptocurrency. These include instant and secure transactions directly to the wallet. There is no intermediary involved, reducing the time to finality. Since the transactions happen over the blockchain, they are secured by the power node operators. Players can use any token without any KYC check required.
Moreover, it gives away thousands of monetary benefits per week. The native currency of CoinPoker is CHP, providing players exclusive benefits and support for future developments.
Anyone worldwide can access the desktop client to deposit the funds in CHP, USDT, or BTC. One can also do withdrawal transactions from any part of the world. Availability on mobile is a huge plus for players who wish to engage with the content on the go.
It welcomes opinions and feedback from the community to make improvements. Crypto-poker players are increasing in number. This is estimated to skyrocket in the times to come as many regions are identifying digital currency with their population accessing digital finance to transact with the rest of the world.