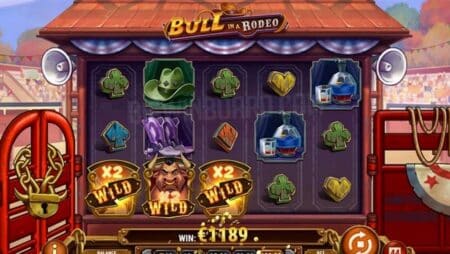 Bull in a Rodeo by Play'n GO is a sequel to Bull in a China Shop, which was released the previous year. In the latest installment, Benny the Bull tries to escape a rodeo and move on with its bullish friends.
Just like the previous installment, Bull in a Rodeo gets reels on the board depending on the mood of the bull, Benny. Most features enable players to take home a decent amount of winning, and some features even add Wilds so that Benny can safely escape with his friends.
The two symbols that land to trigger the Freedom Round are Bull Scatter and Locked Gate Scatter Symbol; however, they must land in the same spin.
One point where Bull in a Rodeo differs from Bull in a China Shop is the addition of three more Rodeo Bull Wilds after every feature. The entertaining storyline is supported by the unique and strong characters of the online slots games, and the portfolio can only be expected to extend more in the coming times.
Charlotte Miliziano, the Head of Games at Play'n GO, said that the team had been looking to give Benny the bull a new adventure since the time it caused mayhem in the previous installment. Charlotte Miliziano also hinted toward a possible sequel that can come anytime after Bull in a Rodeo. It is an addition to the animal-themed online casino games by Play'n GO, like Safari of Wealth.
Play'n GO is a supplier of gaming content to come from the most renowned casinos around the world. It was founded in 2005 and has now attained the title of the largest gaming supplier with regulated operations in more than 25 jurisdictions.
The true potential of Play'n GO is in its development of mobile-focused gaming content and innovation to develop an unrivaled gaming portfolio. The team is backed by 600+ employees worldwide working towards the same goal of giving their hearts to everything.
Play'n GO also supports its partners with its back-end services and solutions to ensure that they provide only the best experience to players. The goal is to make the best products and premium games while keeping the players safe and filled with excitement.
The environment at the venture is collaborative with an approach for innate commitment to social responsibility through a partnership with regulators and research bodies.
Johan Tornqvist, the Chief Executive Officer & Co-Founder of Play'n GO, believes that the platform works hard to achieve its mission by focusing on fun, entertainment, and quality. More games that can be tried on the platform are Forge of Fortunes, Leprechaun's Vault, and Mega Don, to name a few.
Bull in a Rodeo is the second installment after Bull in a China Shop. Fans who loved the first installment will also continue loving the game in the second installment. There is a slight hint for the series to extend with only time to confirm that news.