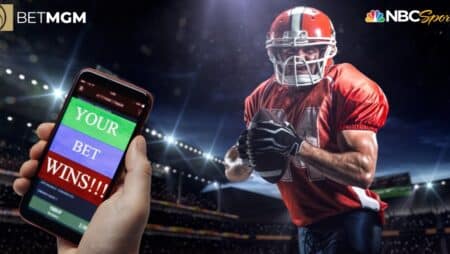 BetMGM and NBC Sports today unveiled their collaboration for the upcoming 2022 NFL season, featuring programming on different NBC Sports platforms along with a weekly display on Football Night in America (FNIA).
The top-rated studio show presenting sports, FNIA, will showcase BetMGM in a range of material, along with a weekly section hosted by Matthew Berry and former NFL quarterback Chris Simms. The storylines and odds of the Football game on Sunday night on NBC, Peacock, and Universo will be highlighted in this segment.
The NFL post-game programme Peacock Sunday Night Football Final, produced by NBC Sports, will delve deeply into game stories and feature BetMGM's popular betting lines that were popular during the contest.
There is more to this partnership which includes:-
Both Fantasy Football Happy Hour along with Matthew Berry, which airs daily except weekends at Noon ET on Peacock, and Fantasy Football Pregame hosted by Matthew Berry, which airs at 11 am ET on Sundays on Peacock, features full BetMGM odds and lines.
According to Sports Betting news, During the NFL season, more details on Berry's social media channels may be found, and users can check Berry for specific platform enhancements. During the 2022 NFL season and the 2023 NFL Draft, Chris Simms will host co-branded stuff on his social media platforms and the Unbuttoned podcast by Chris Simms.
Matt Prevost, Chief Revenue Officer, BetMGM, said it is a great chance to work with the excellent NBC Sports staff and connect with football fans throughout the country. The company is eager to share insights from our BetMGM trading staff with NBC viewers, as well as engaging portions highlighting the thrill of wagering with BetMGM.
In addition to GameSense, a top-class program created and having a license with MGM Resorts by the British Columbia Lottery Corporation, BetMGM is happy to offer resources to assist clients in playing responsibly. Customers can access gaming resources directly from GameSense, which is integrated within BetMGM's desktop and mobile versions.
About BetMGM
A global leader in the online gambling sector, BetMGM is a provider of gaming amusement and sports betting. BetMGM provides online gaming and sports betting options through top businesses, such as BetMGM, Borgata Casino, and others using Entain's cutting-edge, US-licensed technology.
About NBC Sports Next
NBC Sports Next, a part of NBC Sports, includes NBCUniversal digital sports and technology apps across its three segments- Recreational Sports, Golf, and Betting & Gaming. The organization known for its sports technology product innovation, NBC Sports Next, has connections with about 30 million players, coaches, sports administrators, athletes, and others.