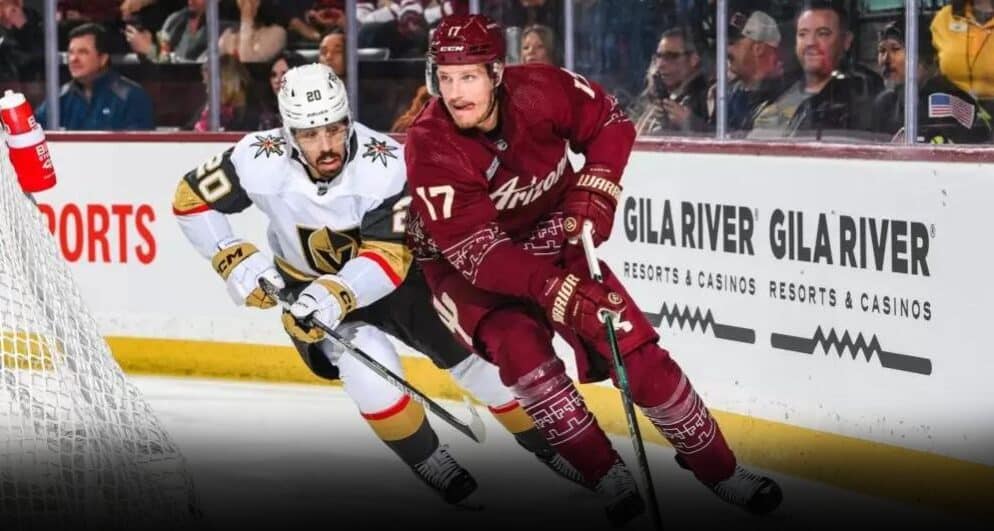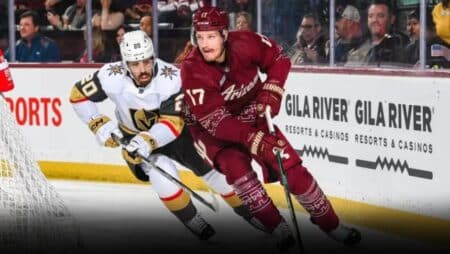 ASU Multipurpose Arena witnessed Arizona Coyotes winning their second of the last 13 ice hockey games and Vegas Golden Knights now losing 4 out of 5 previous games. Coyotes clinched the victory by 4-1, courtesy of a hat-trick scored by Clayton Keller and one goal coming from Dylan Guenther.
Karel Vajmelka saved 35 shots for the side, with the maximum number of saves coming in the second session of the game – 27. The third session was pretty chilled, with only 5 shots requiring Karel to jump for a save.
Keller remains in the spotlight for his hat trick. This happens to be his second hat trick this season, with the last one coming on December 11, 2022, against Philadelphia Flyers. It was a 5-4 win in the overtime and a huge jump to back the stats of 1 goal and 1 assist in the last ten games.
Golden Knights scored one classic goal with the shot of Phil Kessel. Logan Thompson had a pretty busy event, but he could only save 19 shots coming in his direction.
The second session was an equalizer, with both sides scoring one goal each. Coyotes did take the lead in the first session and then did not let their opponent score a single goal in the last session. However, they did find the net 3 times to bring the tally to 4 goals on the board.
Nick Schmaltz assisted 2 times throughout the match, with others following the trend for Coyotes.
William Karlsson went goalless and a single assist to make up for the one point to his name in the register. Paul Cotter attempted two times to score for the side, but Karel danced his way around to convert that shot into a save instead of a loss.
According to online sports betting news, Keller is meanwhile happy with the performance, saying that he has learned not to get frustrated during tough times. It's nice to see some go in, Keller stated in his interaction with the media. He added that it is a long season, and one is going to go through tough times.
Brayden McNabb, the defenseman of the Knights, has admitted that the team is in a bit of a funk and has got some learning to do. Brayden has also said that the team has not been at its best, and players need to find consistency along with a way to capitalize on the opportunity.
Moving on, Vegas Golden Knights are next scheduled to play against the New Jersey Devils. Several best NHL betting sites are tilting more towards the Devils due to the performance record of the Knights. It remains to be seen if the Knights will defy all odds to emerge victorious in the next event.
The Arizona Coyotes will next face the Anaheim Ducks. There is a chance for Coyotes to add another win to their name, provided the Ducks play smoothly against them.